Bob LeVaillant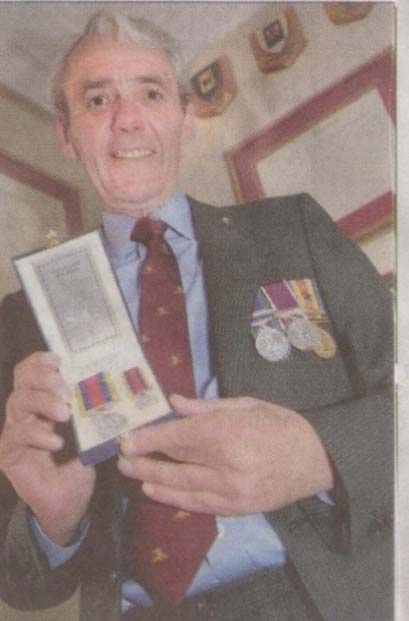 Appointed 14 May 1984 - 23941183, Staff Clerk, originally RASC, joined Junior Tradesmen's Regiment (Rhyl) in 1962. Served in Borneo (50 Suppy Depot), HQ FARELF, HQ 4 Div (BAOR), 55 CBGL Section (HMS ARK ROYAL), HQ AFSOUTH (Naples), British Embassy Seoul, HQ 51 Bde (Kowloon), HQ BF Hong Kong and, the last 8 years at the Ministry of Defence. Discharged in 1986 and went to Toynbee Hall in East London (President Jack Profumo of 1960s fame!) where I had founded a Children's Charity - Stepney Children's Fund - in 1982 as a volunteer and was then appointed as Toynbee's Head of Services for Children & Families.
In 2005 I finished that job and 'retired' to the seaside in Kent to write and do a little consultancy work and, more important, bring up three little girls who we adopted in 2000. I have another adopted daughter who is now 30 and I found her at a Korean Orphanage in Incheon, not very far away from where General McArthur landed in 1953. She's married now and living in Bermuda.
Having now read your website, I know a ruddy sight more about the appointment of Conductor, than I did when I received it in a letter from the DGOS which just arrived on my desk in Whitehall! No ceremony, certainly no 'parchment' and my (RCT) Brigadier at the time thought had something to do with driving buses! That I'd started at the front of the bus as a driver and ended up taking the fares! It's good to know that it's a lot more honourable than that! Noting the date the appointment was founded, I wonder if any other ex Conductors hold the similarly ancient appointment of Justice of the Peace? It was founded in 1361 and I was appointed to the Inner London Juvenile and Care Benches in 1989. I am presently in the process of transferring to the East Kent Bench and I would be delighted to know if any other ex RASC/RAOC Warrant Officers are around.
The thought and the presentation of the Malaysian Medal was a particularly nice touch after so long and it was nice to be with so many people from all services including widows & dependents who had shared a common experience and which most people in Britain have probably long- forgotten. I have a similar medal presented by the South Koreans to those who served there post Korean War. While I was in the Seoul Embassy with the Brigadier Defence Attache (75-76) there was a small Commonwealth Liaison Mission based in Itaewon and consisting of a Major, RAPC SSgt, Post Cpl and, I think, REME vehicle fitter. I don't know if the CLM is still going? I adopted an abandoned orphan in the town (Inchon)where Gen Douglas McCarthur landed 1n 1953, and it was hell of a fight to get her out of Korea to Hong Kong and re-adopt her under British Law. She's now 33, happily married and living in Bermuda. If anyone saw the bit on the news about the New York Philharmonic playing in Pyongyang North Korea a couple of months ago, one of the tunes was a Korean folksong called 'Arirang'.
The Korean 'ladies of the night used to sing it to me and the baby sitting on my bed in the barracks and I managed to get it played for her as her wedding march in St Paul's Cathedral 6 years ago. Have attached a photo of us both wearing our 'national costumes'. Another plum Staff Clerk posting was to the Fleet Air Arm onboard HMS Ark Royal – Major & Capt FACs, RAOC Sgt Chief Clerk & LCpl Clerk and a RCT Driver. We went all over the world and were probably unique in having been at sea as soldiers on the last day of the Royal Navy's 'tot' … and we ran into a Soviet Spy Ship in the Mediterranean! Another Naval memory was driving the 'Seaballs' (Carrier Borne Army Liaison) Landrover into the side of a destroyer moored in Plymouth Dockyard. I think the Army Accident Report Form was FMT3(Revised)and it was a bit difficult to fill in details of the 'Other Vehicle' involved. I was banned for 3 months from driving in Her Majesties Dockyards. And another driving anecdote was in the same Landrover in Gibraltar during the 'Rock Race'. There were only 2 vehicles up there at the time, ours and one belonging to a Mr Zammitt who, at the time, was parked and was engaged in sexual congress with lady who shall remain nameless. I can't imagine what was said as we lurched round the corner and ran into them. Luckily, the married-but-not-to-her Mr Zammitt didn't complain to the authorities! And Naples was good, too and so, in parts, was Whitehall But Deepcut was execrable. Nothing changes!
Written and submitted by Bob LeVaillant, May 08